In this TED Talk, Scott Griffin, founder of the Griffin Poetry Prize, discusses the importance of poetry, drawing on his own personal development and the role of arts in society. Throughout, his talk is flavoured with recitations of some of his favourite poems delivered in the manner of a true appreciator of poetry and language. At the beginning Griffin says, "poetry is able to deliver, with just a few lines, the full range of human experience." This statement brings many lines of poetry to my mind. The most potent are from a poem by Lorna Dee Cervantes called "Lápiz Azul":
"A Swoop of the heart
and there it is – a field 
so blue I live through
a dense dream of wet
and white. This world 
could be a dream, this
dream, a universe" (From the Cables of Genocide: Poems on Love and Hunger. Pg 52. 1981).
For all my research on poetry, language, form, and style, I have to say that there are some poems that do not invite a scholarly investigation. This is not because they don't deserve such attention, but because they encapsulate, in just a few simple words, more thought, sense and emotion than a peer-reviewed article, book chapter, or monograph could possibly express. The power of these lines, for me, is akin to a few of William Wordsworth's in "Lines Composed a Few Miles Above Tintern Abbey":
"but hearing oftentimes
The still, sad music of humanity,
Nor harsh nor grating, though of ample power
To chasten and subdue."
I read Wordsworth in secondary school (high school) and fell into such deep, obsessive love with his words that my English teacher invited me to teach the revision classes on his work. These lines stood out in particular. They, like those by Cervantes, seem to encapsulate what Griffin describes as "the full range of human experience." But poetry can go even further; Cervantes seems to interrogate the very nature of our existence, and Wordsworth's lines express the incredible impact that human beings have had on this earth.
Moreover, these quotes demonstrate the timelessness to poetry. Cervantes published "Lápiz Azul" in her second collection in 1981, while Wordsworth penned "Tintern Abbey" in 1798 – a gap of 183 years. Throughout our human history we have used language to situate ourselves, explain our existence, express our emotions, and commit to memory significant events (personal and political).
Every poem, recent or past, is current due to poetry's capacity for human expression and understanding. This post is not textual analysis or close reading of poetry. It is simply an appreciation of an art, in my opinion, the most human of the arts, a form that is innately connected to our desire for language and communication.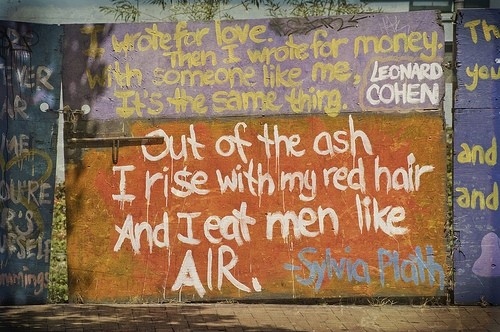 I would argue that Wordsworth and Cervantes' lines, together, express that desire (whether or not they were originally intended to do so). Poetry is "the still sad music of humanity", beautiful and gentle, able to "chasten and subdue" as we attempt to navigate our own paths in a world that seems as fragile, surreal and endless as a "dream, a universe." I think everyone has wondered at some point, "How did I get here?" Poetry may not provide the answer, but it asks the question in ways that make one believe the reason must be significant.
Similar Posts:
Poetry Matters: Mixing Poetics and Poetifying Conferences
Cyborgs, Smartphones and Poetry: Why We Should Memorize
Poetry Translation Workshop: A Review
What are your favourite lines of poetry? Please tell me in the comments!
Tags: communication, humanity, Lápiz Azul, Lorna Dee Cervantes, Scott Griffin, timeless, Tintern Abbey, value, William Wordsworth